Logos represent a business. It is an integral part of branding, as it is one of the first things potential customers notice.
For this reason, you should create a logo that accurately depicts your brand in every aspect. There are many elements involved in the making of a logo. They change depending on your company's needs.
However, an excellent logo embodies five critical characteristics, regardless of the essential features that make it unique.
What are these characteristics, you ask?
By having these qualities, you can ensure that your company's logo is distinctive to your brand. This, in turn, will help your potential customers associate the logo with your company.
1. An excellent logo should be simple.
If your first instinct is to go overboard, think for a second about some of the most famous company logos you have encountered. You are most likely familiar with Nike's simple swoosh design. Then, there's also Apple's self-explanatory logo.
A simple logo is precise. It works because most customers don't have the time or the willingness to go into the details of your logo. A basic design that mirrors your brand identity is good enough.
What makes a logo simple?
Aside from the literal meaning of the word, a simple logo gives rise to the vital points that make up the brand's character. Instead of putting too much fuss in a logo, it is a lot better when you center on simple elements such as typefaces and colors. At the same, the logo should capture the essence of your business' concept in its most fundamental form.
Why not take advantage of a symbol? A logo can ride on psychological associations with established values and principles. Another good idea is to use simple letter logos that directly outline brand personalities. No need to worry about images, just come up with the right colors and fonts.
To sum up, a simple logo utilizes only the essential elements that correspond to the brand's identity.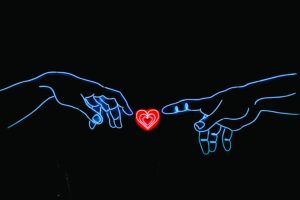 2.

An excellent logo should be relevant.
High-quality designs communicate a brand's personality while forming a connection with the target audience.
How to make a logo relevant?
Individuals respond to the colors your logo has. These colors can have interpretations, and your logo should never mislead. A toy-selling company should opt for fun and exciting colors to convey energy and youthfulness. If they choose dark and dreary shades, it won't reflect what their company is all about.
Apart from color, wordmarks and font style deserve just as much attention. Font styles further define your company's tone and value. It enhances your brand's overall character. Soft cursives remind us of femininity, so these fonts are perfect for a jewelry or accessories business. Thin and angular fonts have a digitalized feel to them, making it a solid choice for an innovation or technology company.
Lastly, symbols add a visual element to any logs. Instead of a wordmark, you can use symbols to simplify your logo while establishing a unique hook. When choosing a symbol, you should be creative and consider all the factors surrounding your brand and the ideas it represents.
3.
An excellent logo should be memorable.
One of the critical elements that should go into a logo is the ease of recall. A good logo is memorable. It sticks in your mind the minute you lay eyes on it. A logo's purpose is to form a link to your brand while at the same time, piquing potential customer's interests.
When a potential customer remembers your logo, you know you are doing something right. Images are easier to remember than actual names. If you manage to squeeze into your target market's subconscious, it's only a matter of time until they start reaching out to you.
What constitutes a memorable logo?
Simplicity and relevance play huge parts in creating a catchy logo. However, it is crucial to observe an equal mix of text and visual features. But more importantly, all elements should come together to showcase your brand personality.
Your logo should be one-of-a-kind. Think about countries that have the same colors in their flags. They are simple, and each color signifies something meaningful. But since there are many flags with similar colors and designs, it is hard to remember which one belongs to a particular country. Even if your niche has defined design standards, it does not mean you should blend in with the norm. You will lose out on brand recognition.
4. An excellent logo should be timeless.
Just because you are aiming to be unique does not mean you get to choose unusual designs. Or perhaps, to be relevant, you base your logo on current trends. These two ideas don't work due to one reason — your logo needs to have a perpetual element to it.
Peculiar logos may be memorable. Stylish logos seem relevant now. But, in a matter of years, whatever trend you followed will soon fade. It is only a matter of time before you need to conduct logo redesigning to ensure it stays relevant. If you continuously change your logo, it will affect your customers' perception of your business. You are also compromising your logo's recognizability.
Classics never fade for a reason. Look at McDonald's golden yellow arches and Coca-cola's well-known wordmark.
How to make your logo ageless?
Classic designs focus on unique but straightforward elements. It is easy to get tempted to throw in several brilliant concepts when thinking up a logo. But you have got to hold your horses. Instead, go for quality ideas. Those that give rise to your brand's core values. Yes, it will require you to weed out some great ideas, but you need to eliminate the unnecessary clutter.
Another feature of ageless logos is the use of color blocks. It is rare to find gradients in a logo. Additionally, the color choices are pretty standard.
5. An excellent logo should be flexible.
A logo should be versatile and looks great in anything. Using one size might be too restrictive when using your logo to spread brand recognition.
How to make the logo flexible?
Instead, choosing a resizable logo can make the logo more natural to work with. You could place it on any media, and it will work. When we speak about resizing, it should not affect the logo's proportion.
No matter how outstanding your logo design is, it won't be recognizable if you have to adjust the size. Distortion is prevalent with logos that are not versatile, especially if you place it on a signboard.
One of the quickest ways to ensure logo's flexibility is to be mindful of the format you save the logo in. Most images pixelate after resizing. However, scaling vector files is possible.
When it comes to details, the less clutter, the easier it is to make the logo more flexible. Various colors, lines, minute elements, and flourishes complicate the logo. On a small scale, these details won't be distinguishable, anyway. So why add chaos? Just focus on the key aspects.
Simplicity plays a big role here because it affects the other four elements that make a good logo. By understanding how all of them can contribute to a good logo, you could effortlessly strike gold in the branding department. Aim to produce a classic but versatile design based on your brand personality and overall tone. By removing clutter and keeping the logo clean, you make it more memorable for your audience.
Having an excellent logo can help you attract more customers and level up your branding game.