About 269 billion emails are being sent out daily. It's proof that email marketing campaigns aren't dead, as many would claim. However, this number can also be off-putting to marketers who fear that their email marketing efforts will only be in vain.
How do you stand out in a sea of emails a person receives each day?
How do you get this person to click the email and read what you have to say?
I'm going to level with you here — it's not easy. You have to find the right chord to strike when capturing your target market's attention.
This article aims to give you some guidance in running a flourishing email marketing management; one that guarantees higher engagement and sales.
But first, what's an email marketing campaign?
Basically, an email marketing campaign involves sending emails to your target clients. These emails can be informational and promotional. You can tell if your email marketing campaign is a success by how many receivers decided to take action, communicate with your brand, and refer you to other people.
Email marketing is still thriving, despite being one of the oldest digital marketing strategies in the book. So long as emails remain significant, it won't change. Over 90% of adults and about 74% of teens use emails on a regular basis, so things are not likely to shift any time soon.
Email marketing allows you to form client relationships, which is necessary for gathering leads and earning sales. But as I've said earlier, running a successful marketing campaign requires some serious forethought.
Gain the confidence and expertise you'll need before sending out your first email with the following tips:
1.Prepare a Targeted Email List
Before thinking and worrying about your content, you should first concern yourself about the type and quality of people receiving the email. All successful email marketing campaigns start by gathering qualified leads that are likely to take advantage of your products and services. One way to build a list is to collect email addresses of people who visit your website.
Unfortunately, this part can be challenging since 80% of web visitors will desert a website without giving up their emails.
What you can do to prevent people from leaving your website and register for newsletters is add exit-intent pop-ups. These pop-ups identify user behavior and flash them with a message they can't ignore as soon as they hit the back button. You'll experience an increase in conversions once you integrate exit-intent pop-ups on your website.
2.Identify your goals.
One of the most critical parts of planning is setting objectives. There's no reason to approach email marketing differently. So go ahead and give yourself time to recognize your goals. Some of the most common objectives are:
To gain new subscribers and to start a relationship with them.

To inform subscribers about offers and business updates.

To increase engagement and promote new material, such as a webinar and release of new products.

To provide more value to current subscribers.

To re-ignite the interest of customers and prevent them from forgetting your brand.
3.Get to know your target market.
Marketers who have been doing email marketing for quite some time have a good idea of who their audience is. But this isn't the case for beginners. You'll need time putting your finger on the most suitable way to realign your content with your audience, and that's fine. You'll be able to fine-tune your target market after a few tries. The minute you distribute your first email campaign, you'll likely get more data on your customers.
You can use Google Analytics and social media accounts to gather data for your first email for starters. These sources can give you an idea about your audience's location, demographics, likes and dislikes, and other metrics you can use to build a brand persona in mind. The information you gather will give you a headstart in creating powerful email marketing campaigns.
4.Understanding Various Emails
Another element you need to decide on is the type of email you want to send. There are three key email types:
Promotional emails contain information about current deals and sales.

Relational emails comprise of newsletters, complimentary gifts, and other informational emails.

Transactional emails usually serve a purpose. Examples are welcome messages, signup confirmations, subscriber settings modification acknowledgments, and purchase verifications.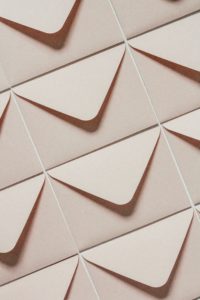 5.Use technology
Email marketing services usually have tools and functions to make email marketing content more compelling. When looking for an email marketing service to use, look for the following functions:
In-depth analytics on email campaign efficiency

Systematized filing system for your audience

Works with other software apps, such as WordPress, Squarespace, etc.

Available design templates

Campaign creation and development
Take a look at Mailchimp's automation features. They help arrange transactional emails, updates, develop different types of emails, and interact with your consumers.
6.Develop Effective Opt-ins
The quality of individuals you include on your email list largely affects the effectiveness of your campaign. To attract the right people, you should develop opt-in forms that can push people to sign up. There are many types of opt-in forms you can use on your website, such as:
Welcome gates appear on the website when individuals access your website. Slide functions allow users to access content whenever they want.

Lightbox pop-ups appear on the page, blocking out other parts of the opt-in. These make a lot of conversions because users can't access your website until they sign up or close the pop-up.

Exit-intent pop-ups appear every time people are exiting the website, utilizing the lead magnet.
You can add opt-ins in strategic locations on your website, but see to it that they conform to page-level targeting and guidelines. In this way, you don't lower the effectiveness of the opt-ins by making them inconvenient.
7.Prepare your email strategy.
When you've accomplished the necessary steps, you can officially begin planning your email marketing campaign. Ponder on the type of email, content, call to action, and email frequency because all of these elements are necessary for an email marketing campaign.
It goes without saying that overly frequent emails can annoy some customers. Moreover, they might fall into the spam folder. Just come up with a schedule and inform your customers about your email frequency. You can conduct a survey, asking your subscribers for their thoughts on email scheduling. There are also settings available you can use for people who appreciate your emails but at a reduced frequency.
8.Prepare a solid subject line.
Think about what's the first thing you see in an email? How does it impact a customer's decision to ignore or entertain the email? This is how important a subject line is. It can make or break your email marketing campaign. Think of it as the headline to a blog post. Will you proceed to read the rest if the headline does not do anything for you?
Choose a subject line that will resonate with your target audience and pique their curiosity. Some tips you can apply include:
Personalizing an individual's name to make them feel more special, keeping them engaged

Being upfront with the gist of the email. No frills. Very straightforward

Using high-converting email subject lines from a different source, but make sure to tweak it accordingly

Avoid using spam trigger words to ensure your emails only go straight to the inbox.
9.Write compelling email marketing copy.
This step has to be the most time-consuming part when preparing your emails. One of the secrets of keeping readers engaged is to add a hook at the beginning of the copy. Avoid writing really long copy, but at the same time, you don't want to pitch your offer right away. You have to find the right length when delivering your message.
Don't forget to customize the emails you send. Saying "Hey, Beautiful Momma" is lovely and all, but addressing customers by their names will draw them closer to you than flattery ever could. You can also personalize the emails according to the customers' needs. Instead of shooting emails to everyone on your list, you can make them more targeted, which is likely to reap more results. When you segment your audience, it has a positive impact on click-through rates. This has been proven several times.
Be more human. Back then, it's a must to sound formal in any business interactions. On the flip side, people prefer approachable brands these days. If you want to form a psychological connection with your audience, you can implement this technique.
Another idea is to provide your readers with valuable content. It can be new material, some tips, a link to a podcast, or whatever you think your readers will learn from. Don't forget to explain how it can be beneficial for them.
If you're short on time, you can send them a poll, a funny GIF, or a short video — anything to keep them engaged.
Don't make the mistake of putting all of these elements in one email! It can be too much for your audience. Generally, emails should only cover a few main points. Should you need to write a longer content piece, make sure it's not in the form of long paragraphs. Your email should be easy to scan or skim through.
Lastly, don't forget to add your call to action (CTA). This element should reflect what you want your audience to do after reading your email. CTAs can be anywhere in the copy. In fact, they appear several times in it. You can place them near the beginning, in the middle, and near the end of the email. They are usually short but sweet, and enough to get your readers clicking.
10. Check the email design.
Image is everything. The way you portray your email can affect your readers' view of your brand. Content matters, but only if your readers can manage to get past your email marketing design. The minute they open your newsletter and see how chaotic it looks, they will likely unsubscribe or, at the very least, skip reading your email.
Most emails are text-based. Images can highlight your point and add an interesting flair to your emails, but most people disable images in their emails. It's necessary to make sure the content is received the same way, with or without images. You can make info in images discreet. Alt tags can provide accurate picture descriptions, so it's wise to utilize them. In this manner, the reader can read the description and work out the image in their mind.
Aside from aesthetics, versatility is also an important factor. Most people access their emails on their phones nowadays. Therefore, you should go for a responsive email template that resizes accordingly, depending on where the user accesses it.
11. Put your first email to the test and monitor its results.
When you hit the send button, you've taken only taken the first step in your campaign. The next few steps will require careful monitoring to determine if your email's a success. It would help if you were patient since everything at this point is part of the learning curve. Study the layout, the copy, CTA, and subject lines. You can also screen emails using different sections and try figuring out the best times to send emails.
Take advantage of email analytics to see how many people on the list have opened, clicked, unsubscribed, and forwarded your email. From this, you can check which strategies and approaches you should stick to.
Monitor the sender track record all the time. It reflects email deliverability. Include Sender Rating in your emails to note down any issues that can stop your emails from getting through your audience's inbox.
You can weed out some people on your customer list if all your efforts to re-engage them fall short. You don't want to send out emails to inactive people when you need to focus on reaching out to your active customers. Who knows? If you manage to satisfy these people, they can get the word out and lure in more subscribers.