Not a lot of businesses are utilizing Pinterest to promote their brands. Most of them are zeroing in on all their efforts and finances on Facebook or Instagram, relying on these two major platforms for their breakthrough.
It was an understandable move back then, but today, you need to have an honest think with yourself to decide if it's time to turn the tables and incorporate Pinterest into your social media marketing efforts.
Pinterest has since become a useful medium for businesses to stand out from the crowd and amass brand awareness while also effectively driving people to take action.
It seems easier said than done to launch a marketing campaign to improve your company's standing. You and I both know it'll take a lot of work, especially if you're a stranger to Pinterest, but you're very fortunate to have come across this article. I'll hook you up with a practical guide so you can smoothly promote your business on Pinterest.
How to Successfully Begin a Marketing Strategy on Pinterest
Take note of the following practices that can make Pinterest advertising a lot friendlier to a newbie like you.
1.Establish SMART goals to have a more structured plan of attack.
I'm guessing this isn't the only time you've heard of SMART, but I'm going to break it down just in case:
S stands for SPECIFIC
M stands for MEASURABLE
A stands for ATTAINABLE
R stands for RELEVANT
T stands for TIME-BASED
Why do you need to have SMART goals?
Because these goals give you focus and direction to achieve success. Moreover, it helps you identify your steps and curate a reasonable timeline to get things done.
Now, what do you want to gain from your Pinterest marketing campaign? Some businesses use it to improve their brand exposure, while others use it to boost their brand. Pinterest is instrumental in directing people to your website and converting viewers to customers.
Generally speaking, Pinterest helps brand names reach marketing goals immensely with its very nature and provided tools, but it's up to you to determine the steps to achieve success.
Pinterest has its specific edge, which you can play to your advantage when laying the groundwork of your marketing plan. As a visual search engine, Pinterest has tons of organic reach available for you to tap. Also, unlike other social media platforms, your follower count on Pinterest does not matter much. Having a handful is an excellent way to get a headstart, but it certainly isn't the only way. So long as you provide relevant and exciting content, your efforts will pay off.
2. Level-Up Your Profile
Setting up a Pinterest business profile is relatively straightforward, but you need to put more thought into it. That being said, your objective here is to make sure anyone who sees your profile won't have a hard time understanding what you're offering, and you can set the expectations from the get-go.
Preparing your Pinterest profile for business means you need to maximize your page to ensure that your brand image is distinct and noticeable. One of the most efficient ways to do so is to place your company logo as your profile picture. See to it that the image is in accordance with Pinterest size standards so it won't appear pixelated or cut-off.
Furthermore, make sure the content you release reflects your brand. The general feel of the images should be exactly how you want other people to view your brand. Adding descriptions can also give your target audience more clarity while providing you a more significant opportunity to reel them in.
Don't forget to take advantage of your best pins by displaying them on your "Highlighted Boards." This little feature gives individuals a little preview of your brand.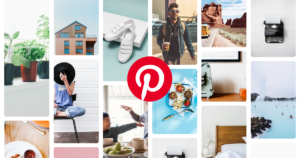 3. Plan a powerful content strategy.
All social media platforms will require you to unleash your creative side, but you need to give twice the effort when it comes to Pinterest. Posting images with links won't cut it. Don't forget that Pinterest is considered a search engine for inspirational pieces, so you can't just throw in stuff together and call it a day.
It would be best if you had a solid plan that can support your goals. For instance, ask yourself what type of material can help you carry out your objectives. What can help you attract more followers and cement your plan? What kind of content do your followers expect you to produce?
The answers will help you narrow down your options and tailor your content strategy according to your goals.
There aren't many options out there, but here are some content ideas you can use on Pinterest.
Pinterest is a visual platform. Therefore, you must utilize images that draw attention; otherwise, your target individuals might just scroll past your hard work. Some images that usually work are color-coordinated pictures and have a high resolution.
Most Pinterest users go to Pinterest to look for design and style ideas. Basically, what they're looking for are ideas that they can then implement in their project. By giving them visual concepts in your niche on a regular basis, they'll likely feel more inclined to do business with you and visit your website for more.
Many Pinterest users cited that they learn and discover valuable information on the platform. Why not add how-to-guides to your content plan? You can also give DIY tips and other tricks you can think of related to your brand and the niche you're in.
Apart from educational content, you can provide your Pinterest audience with infographics, fun facts, and listicles as a way to share relevant information about your industry in a non-intimidating manner.
4. Figure out the best time to post your Pins.
Timing is always relevant. When it comes to social media marketing, publishing at the ideal time leads to your campaign's success. One of the reasons you should spend time discovering the perfect moment for your Pins to see the light of day is to amass increased engagement. You should know when your target users are more active.
Fortunately for you, pins have a longer lifespan than other content pieces you post on your Facebook or Instagram business account. Take event-theme and periodic content, for example. Once you post your seasonal content, it will keep popping up whenever a Pinner searches for them or when the event is near. Pro tip: Most users look for ideas months before the actual event or holiday. You must stay ahead of the game to take advantage of the wave of searches coming your way.
5. Don't just focus on your creative side when producing pins.
Eye-catching images are a good a place to start as any on Instagram, but there are more things to consider. If you intend to make the most out of your content, you must follow Pinterest's best practices.
Remember to include your brand logo in your image every time. It helps users associate your content with your brand. When choosing images, only go for relatable ones. It's hard for users to see themselves using a product or enjoying a service that seems far-fetched judging by the image you have used. Moreover, take advantage of captions when using text overlay to make your content more relevant.
Last but not least, always maintain the 2:3 ratio of your images so it can fit perfectly on Pinterest's format.
6. Always be prepared.
Having a content strategy and a schedule in motion can get the ball rolling, allowing you to plot your content months in advance. This means you'll have the headspace and time to tackle other tasks while also having time to put out fires when necessary.
Make sure you set a time in your schedule to plan content for the coming weeks. Otherwise, you might end up spending more time than you should if you're not prepared.
7. Use the "Shop the Look" pins for your shoppers' convenience.
One great thing about Pinterest is that a compelling call-to-action will get you far. If you desire your users to purchase something from your collection, adding save buttons is not enough because Shop the Look pins are more appropriate for the job. By doing so, it becomes less complicated to purchase the items in your post on your website. Simply tag the products with the right affiliate or URL link. This simple technique saves your users time and energy of visiting your website and looking for the product/s to finish the purchase.
8. Add Pinterest's "Save" Button to your website.
It doesn't matter what your goals are for your business, having people save your pins is and will always be critical in your campaign's success. Saved pins make it easy for users to discover more about your brand and force them to check out your products.
Like Shop the Look buttons, you provide a shortcut for your individuals for content pinning. This has to be one of the most important practices on Pinterest, so you shouldn't dare miss it,
9. Measuring your performance.
The truth is, without tracking your results, you can't really identify what's useful or just costing you time and effort. You can't base your plan on assumptions and hope it will result in your goals.
Therefore, I urge you to use Pinterest's free tools to figure out what's worth the extra mile. Time is valuable, and your effort is better spent on something else.
Pinterest is not as fussy as plenty of marketers make it out to be. Sure, it's a lot different from what we're all accustomed to, but it sure is worth your while. Just make sure your target population is on Pinterest because the platform doesn't have plenty of variety as Instagram or Facebook when it comes to their users.
This short but straightforward guide helps you start things out with better odds, even if you're just testing the waters. Don't forget to couple this practice with metrics and insights, so you can learn as you go and improve your performance on Pinterest.