Content marketing enables businesses to get more potential customers while improving customer loyalty. Suffice it to say this little stone can hit two birds. Creating video ads for social media is now a lot more effective in getting results. But these results would not be made possible without the help of social media platforms. The good news is that these networks are here to stay.
If you are looking for ways to expand your digital marketing campaign, there is one platform that will enable you to target millennials and Gen Z? I am talking about none other than Snapchat. Targeting the younger generation has gotten much easier through this video-sharing and photo chatting social media network.
Snapchat has captured the hearts of many individuals belonging to the 18 to 34 age bracket. Here are some Snapchat impressive statistics that will make you realize its social media marketing potential:
Snapchat users are very active. On average, an individual uses the app for almost 30 minutes daily.

More than 50% of these daily users upload content to Snapchat. Expect a high level of engagement from this platform.

Despite these positive statistics, many marketers cast doubts about Snapchat's sustainability because the content you put on it lasts only for a day or so.
But who can argue with statistics? Snapchat has the ability to reach out to different individuals and get more personal with prospective customers.
I understand your hesitations about Snapchat. It is different from Facebook and Instagram. However, I think by the end of the article, you will be a convert. If you are a digital marketer or a small business trying to establish your mark in the social media realm, then this can definitely help you out.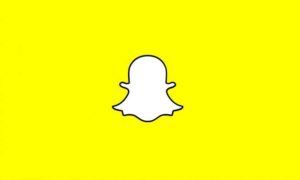 Try the Top Down Technique
You always need to crunch the number when it comes to marketing strategies. The truth is, you can't expect your profile to get noticed if you don't post regularly. This concept doesn't apply to Snapchat alone. You will never see your engagement performance improve if you don't bother updating your fanbase on what you are up to.
On other platforms, this is possible, but you would need to partner with influencers, come up with promos, and so on. With Snapchat, it is possible to grow your following at a lightning speed without the whole nine yards.
Once a person with enough following sends a shout out to your brand. Even with something as measly as a 1% natural reach, you can get tons of impressions. It could be more, since 92% of people normally trust individuals more than a company's full-blown campaign. Who would not want these positive outcomes? Snapchat has the ability to increase your brand awareness in a single viral moment.
Another strategy worth trying is handing your account to a social media influencer. This will instantly put your name on the map. Apart from this, however, there are many ways to do influencer marketing. Like all platforms, the benefits from partnering with an influencer are numerous. Not only does it boost your brand, it also enhances its overall engagement rate.
How to Work with Influencers on Snapchat
There are 3 basic pointers you need to keep in mind when picking influencers to take over your Snapchat account for a day:
Never solely rely on the number of followers.
There are so many factors in play when determining the impact an influencer can do for your business. It is never just about the influence. Although, it represents a huge part of the equation. You need an influencer whose following corresponds to your target market. Additionally, observe the quality of his or her followers. Do they enjoy interacting with the said influencer? You need someone with a hook that can attract more audience while engaging your current ones.
2. You can look for influencers outside Snapchat.
No one is stopping you to go shop outside the platform. In fact, you can tap the shoulders of YouTube, Twitter, or Instagram influencers for the platform. The best part is that most of these influencers might already have a good amount of followers on Snapchat since they cross-channel their social media accounts when campaigning for brands.
3. Brainstorm with the influencer to come up with a CTA related to your campaign.
Direct links are not enabled on Snapchat. However, with the help of textual overlays you can put on photos and videos, it is not difficult to direct the audience and drive action. Moreover, you can also take the extra mile and ask the influencer to promote your website or ecommerce store. Bear in mind that Snapchat posts are temporary and disappear right away, incentivize those who bothered to take screengrabs for their reference. You can also place this on the Snapchat content.
Conduct exclusive offers on your Snapchat account.
You can use the brief essence of the social media platform to your advantage. Snapchat users enjoy staying on the platform because of it. The disappearing nature adds a sense of urgency that can push your audience to partake of the offer, without second guesses. Here are four ways you can engage Snapchat users to participate in your offers:
Free gifts or contests

Special Discounts

BTS previews and teasers

Flash sales
Entice your consumers to follow your other social media platforms. You could use QR codes and come up with one-of-a-kind Snapchat series. If you are managing an eCommerce biz, Snapchat filters and its level of urgency can make shopping more enjoyable for your potential customers. You can incentivize them with discounts or exclusive gifts to boost your sales.
Even if you are not managing an eCommerce biz, you can use Snapchat to display a new side of your brand. Post material that captures the gist of Snapchat, which is all about raw and very independent.
Maintain audience engagement through a series of snaps.
Snapchat released stories in 2013. Stories, as the name implies, is all about letting the user build a narrative through a collection of snaps. Aside from pictures, you can use snapchat's cool features and create wonderful illustrations, add texts, and even emojis to strengthen your narrative.
It is a great way to use the briefness that images and vids on Snapchat have and keep your followers entertained. You can add more character by way of filters and emojis. You can also adjust the time frame for each snap. Stories have 24 hours on the platform. Unless, of course, you delete one. Maximize your efforts in creating the Snaps and download them, so you can upload them to your other social media platforms. Different brands have leveraged Snapchat's stories in their marketing measures.
Appreciate the joy the filters, drawing, and emojis bring.
Snapchat don't like the stiffness and formality ads have. Don't let them feel that this type of marketing is invading their beloved social platform. Make snaps that are interesting and enjoyable. By doing so, your consumer will feel more at home and loyal to you.
Snapchat also has lenses, illustrations, and geographical filters. You can get filters and 2D or 3D lenses especially for your brand. Use them to create interactive advertisements.
Snapchat is an excellent platform most companies overlook. However, if you are hoping to develop an authentic relationship with your fan base, I encourage you to try it out. It is perfect in targeting an audience consisting of 18 to 34 years of age. Digital marketing pros and small business owners should explore the various methods available on Snapchat to enhance your overall marketing strategy. There is absolutely no pressure. Your audience appreciates laid-back and low-profile Snaps more than posey ads.